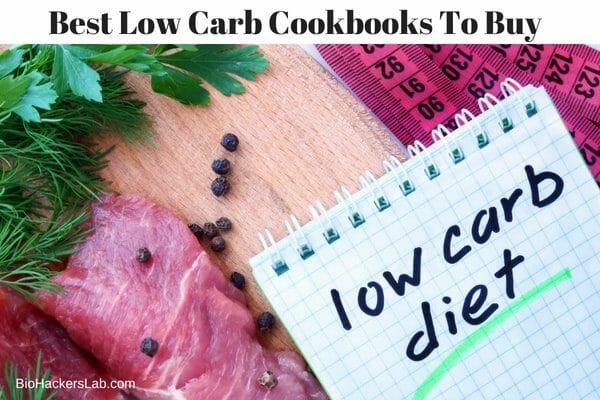 It doesn't matter if you're only interested in starting a low carb diet for weight loss, or want to know more about a low carb high fat way of eating, how to cook fatty foods and be inspired by some new mouth-watering recipe ideas; you're in the right place.
Below you'll find quick, mini book reviews of what are the top 10 recommended books that are all about how to cook all types of meat, low carb vegetables and healthy fats the right way.
Top 10 Low Carbohydrate Diet Recipes Books to Buy
Eat Happy is packed with 154 delicious, grain-free, gluten-free recipes – from soups and starters to meats, fish, cozy casseroles, and desserts. As an added bonus, all recipes are free of any processed sugars, helping to jump start your healthy eating. As a person living with Celiac, Anna Vocino has first-hand experience with a grain-free, gluten-free lifestyle and has learned that you don't have to skip out on your favorite foods when you go grain-free. You won't feel like you're missing out at all, with decadent chocolate pots topped with fresh whipped cream and pizza crust that ticks all the crispy, chewy boxes while still being grain free, plus pancakes, tater tots, and shepherd's pie. These recipes will not only help those looking for a gluten or grain-free diet, but also those on the paleo diet as well. Full color photos of each recipe make this feel more like a coffee table book than a cookbook, but you'll want to keep Vocino's book in your kitchen. Eat Happy will become a staple in your gluten-free, grain-free kitchen.
You may be familiar with George Stella's Food Network TV show focused on low-carb cooking. Combined with five bestselling cookbooks, Stella has established himself as an authority on low-carb cooking. The Complete Low-Carb Cookbook is Stella's best collection of recipes that skip the weird, hard to find ingredients that some may associate with the low-carb lifestyle. In addition, he includes shopping lists and helpful tips to help you learn how to use his techniques to reinvent your own recipes to remove processed foods. Share what you cook from this book with your friends and family and they probably won't notice that they're eating low-carb! Recipes like mac and cheese, chicken marsala, creamy chicken and sweet potato curry, donut holes, and so much more will keep your belly and taste buds happy while you stay low-carb. The book includes 130 recipes without wheat or added sugar, and 60 full-color photos will inspire you to get cooking.
If you're new to the low-carb lifestyle, 500 Low-Carb Recipes is a great book to start your journey. The recipes are simple and easy-to-follow, no matter your skill level in the kitchen and without a major time commitment. Even if you've been low-carb for a while, Dana Carpender's book can provide some new inspiration, integrating some new dishes into your usual repertoire. Breakfast, lunch, and dinner recipes are all covered and include some usual favorites, like bread and oatmeal cookies, but also introduce some foods you may not have made before, like eggnog, jambalaya, jerk pork, and curried lamb. The soft cover easily keeps the book open as you're cooking (a bonus we don't always think about when searching for a new cookbook), making this cookbook a breeze to work with. With a whopping 500 recipes, this book will have a place in your low-carb kitchen for a long time.
Everyone loves a slow-cooker meal. Minimum active time while still achieving delicious results with maximum flavor. Taking on a low-carb diet doesn't have to compromise your relationship with your slow cooker, as Robin Donovan proves with this book. Easy Low Carb Slow Cooking includes more than 125 "prep-and-go" slow cooker recipes that make adopting a low-carb diet easy and affordable. All recipes in her book follow ketogenic dietary guidelines, plus she includes "Make It Paleo" substitution tips to make adapting recipes to your paleo diet easy. There are so many delicious options to choose from, like frittatas, coffee cake, keto granola, Thai red curry beef, and cheesecake. You'll never feel like you're sacrificing flavor when you give up carbs. In keeping with the tradition of slow cooker recipes, Donovan's are simple and easy to follow – even for those that aren't strong in the kitchen – and skip the strange or hard-to-find ingredients. Don't be surprised if this becomes a favorite cookbook in your kitchen.
Even when fully dedicated to the low-carb lifestyle, we all get cravings. Cravings for those cozy, baked, fried, starchy, sweet comfort foods that are not even close to low carb. Until now. This little ebook is chock full of 105 recipes meant to satisfy your desires for fried chicken, onion rings, pizza, lasagna, cookies, and ice cream. The Low-Carb Cravings Cookbook makes you feel like you're cheating when you really aren't. The book also includes helpful tips for smart pantry stocking, so you have low-carb staples for when those cravings creep in. The book provides simple step-by-step directions, plus tips and hints along the way. It can even help you understand why you crave certain foods and what to do about it. Each recipe includes nutritional information, so you know the total carb, fiber, and net carb counts to keep you on track. With this cookbook, you'll be able to enjoy all your high-carb favorites while still enjoying the benefits of a low-carb lifestyle.
If you're looking for more guidance to a low-carb diet than a standard cookbook, The Low Carb Cookbook and Weight Loss Plan could be a great option for you. It combines tasty recipes with a detailed meal plan designed to help you lose weight. Pamela Ellgen's simple 21-day meal plan helps you take on the ketogenic diet without stress, focusing on helping you enjoy your food and feeling great from day one. The Low Carb Cookbook & Weight Loss Plan has 120 easy recipes that follow keto guidelines, but can be modified to be friendly to a variety of other diets, like paleo, diabetes-friendly, and low-sodium. You'll hardly be bored on this new diet, with well thought-out recipes that are varied and adapted from a wide array of cuisines, including favorites like French, Italian, and Asian. Ellgen also includes helpful information on "remodeling" your kitchen to stock low-carb, high-fat options, with sections like "Refrigerator & Pantry Stocking," "Go To Foods," and "How to Reduce Carbs and Increase Flavor." The Low Carb Cookbook & Weight Loss Plan could be just what you need to jump start your low-carb diet.
George Stella makes our list again with a cookbook full of creative, low-carb remakes of snacks, desserts, and your other favorite comfort foods. Foods You Crave has a huge range of options, covering a variety of occasions, cuisines, and cooking techniques to fit your life and your preferences. Whether you're looking to grill out with friends or make an easy five-ingredient meal on a busy weeknight, Stella has you covered. You can continue your love of cooking and baking while still cutting out sugar and carbs. Like his other cookbooks, this one breaks down the nutritional information for each recipe so you know the total and net carbs, helping you stay on track with your daily carb counts. His immense knowledge of low-carb cooking ensures each recipe is well thought out, easy to make, and satisfying. Chicken parmesan burgers, zucchini pizza bites, brownies; you'll feel indulgent while staying on track.
It may seem like a lot of low-carb cookbooks focus on comfort foods you might be missing out on, so what makes Kyndra Holley's book unique? Turns out, plenty. The Primal Low-Carb Kitchen removes grains and gluten, instead focusing on whole, unprocessed, real foods. You'll forget your on any type of special diet when your noshing on caramelized onion and prosciutto mac and cheese, Italian meatballs with tomato cream sauce, chili dogs, and eggplant lasagna. She also includes sections on seasoning blends, dressings, and sauces, so you'll never be worried if your low-carb dishes are going to lack flavor. Best of all, the recipes are easy; nothing is overly complicated and there are no weird, hard-to-find ingredients. With beautiful full-color photos and an easy-to-follow layout, this cookbook is sure to find itself in regular rotation in your kitchen and may bring your friends and family into the low-carb lifestyle when they taste how delicious your meals are.
Danielle Walker may be a self-trained chef, but you'd never know it browsing through this delectable, well organized cookbook. Against All Grain is a solid collection of delicious recipes covering every dish you might need, from appetizers to desserts and everything in between. Full color photos accompany simple, easy to follow recipes that omit grains, gluten, dairy, and refined sugar without sacrificing flavor. Walker even makes bringing paleo into your family's meals easy by including a children's section: low-carb versions of your kids' favorite foods, plus some new fun options to try. Flipping through the book, you'll be drawn to familiar recipes like slow cooker sesame orange chicken, shredded chicken tacos, and fettuccine alfredo, plus new recipes sure to make it into daily rotation, such as vanilla granola, blueberry preserves, and almond milk. Think you can't have mashed potatoes? Try her mashed faux-tatos and hit that craving head on. If you're new to low-carb or paleo, Against All Grain provides you with a great place to start, integrating low-carb replacements to your usual staples and showing that low-carb can be just as, if not more, delicious.
You may find the title of this cookbook a bit confusing, especially if you're familiar with the ketogenic diet. Keto is all about meat, right? Anna Lor sets out to prove that even vegetarians can enjoy the benefits of keto without compromising their ideals. The Keto Vegetarian Cookbook helps you understand vegetarianism, the ketogenic diet, and how these two work together. Then, there are nine chapters focused on delicious, healthy vegetarian- and keto-friendly food. Each of the over 70 recipes have only five ingredients and cover meals as well as marinades, desserts, and dressings. Lor also includes a 7-Day Low Carb Vegetarian Diet for Beginners to help you get started. Chicken parmesan, peanut butter fudge, and orange spice mug cake will leave you satisfied while still maintaining your new lifestyle. The book provides full color photos, easy to follow, step-by-step directions, and all the tools you need to maintain a keto vegetarian diet.
Other Related Dietary Cookbooks