Reviewed by the BioHackers Lab Team | Last updated: May 25, 2020
In today's interview I get to speak with butcher and captain of the American Butchers' Guild Team Danny Johnson, about choosing the best cuts of meat on a budget.
Danny is very passionate about educating more people about the world of meat and building great relationships with his customers.
Years ago, for the sake of efficiency we started moving away from what is called, whole animal butchery, in favour of the convenience of pre-packaged meat. But whole animal butchery is making a comeback and people are once again engaging more in the process.
Today, Danny explains that a good butcher has to know about everything that goes into taking an animal from the farm to the plate.
Building a relationship with your butcher is a great way to learn about the lesser known cuts that are available for a great value. It also means you learn more about the meat you are buying and can get a more personalised product.
If you know someone who is interested in learning more about:
Why building a relationship with your butcher is a good idea
How to choose the best cuts of meat for your budget
What are some great lesser known cuts of meat
How to go about buying meat in bulk
Tips on best ways to prepare different cuts
Then this interview is for them.
I really enjoyed talking to Danny who encourages everyone to talk to their butcher. Whether you want to learn more about where the meat you are buying is coming from, ask for recommendations of cuts or get some simple cooking tips, starting a dialogue with your butcher is the way to go.
Special thanks to Danny for joining me on the show.
Enjoy the episode!
Listen to The Podcast Episode
Hear episode 110 interview directly on your favorite podcast app by clicking a link below:
Guest's Links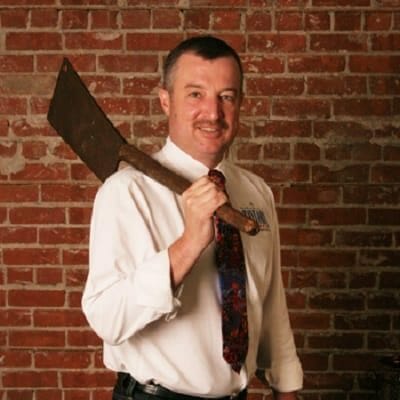 Follow, or find out more about Danny on these official links:
Show Notes with Timestamp Links
Find summarised highlights of what we talk about during the interview.
Use the clickable timestamp links to jump directly to those points in the audio file below:
[00:08] – Introducing, Danny Johnson, a butcher at Taylor's Market in Sacramento, a graduate from a meat cutting school in Oregon, a member of the Butcher's Guild and captain of the American Butchers' Guild Team.
[01:31] – Danny explains the term "whole animal butchery", which is something he has always practised at Taylor's Market. Pre-packaged, boxed meat cuts back on labour but you wouldn't get the same interaction with the butcher.
[03:09] – A butcher can tell how healthy an animal is when cutting a piece of meat. Danny explains how the manner they were handled can impact this. Meat and organs don't make it to the retailer unless they are acceptable quality.
[04:55] – Danny explains how they source their meat at Taylor's; they are lucky to have great relationships with local farmers. Because they are close to the store they can go out and check how the animal is raised and handled.
[06:00] – A good butcher should understand the whole process from raising the animal all the way to cooking it. Every year Taylor's organises a butcher class, dinner and tour at one of the ranges they have a relationship with.
[08:06] – On the carnivore diet a lot of people eat mince and rib eye cuts. Some other cuts Danny recommends that come off the chuck and are a great alternative to rib eye include the denver steak, flat iron as well as chuck eye.
Danny's Tip: Start a discussion with your butcher about cuts he would recommend from a hind quarter and the fore quarter or alternatives to cuts you enjoy.
[10:56] – Danny explains that ideally you want to go to a market that has a meat grinder in-house. The market trim mince (or ground beef) is the trimmings of meat they have been cutting throughout the day. There are usually different blends available and higher fat content usually means lower price.
[13:42] – In the US they are allowed to sell most organ meats. The two exceptions are brains and lungs. Liver, heart, tongue, tripe, stomach however are all available.
[15:14] – There is a movement called Organuary that promotes eating more organ meat. Danny recommends the most classic liver recipe; liver, onions and sliced mushrooms.
[16:36] – Buying half a cow used to be pretty common but less so now. Danny explains, that a great way of saving a lot of money (10-20%) is by buying in bulk and getting your butcher to custom cut the way you want. It also allows to choose grass vs grain fed beef.
[19:33] – To hold this much frozen meat quite a bit of room is needed. About 24 square feet of storage is recommended.
[20:43] – When freezing meat make sure you can use it within six months to ensure quality of product.
[21:27] – We talk about ageing the meat. Aged meat has a different flavour but one thing to consider is the price increase.
[23:18] – Danny makes recommendations of fatty cuts of meat; anything off the chuck tends to have a little bit more fat, but there are other interesting cuts to consider.
Tip: Some of these cuts need to be asked for specifically or are more difficult to sell. So build a relationship with your butcher and ask for recommendations!
[26:54] – Food Network tends to drive some of the trends in what people ask for. This can make previously obscure cheap cuts explode in popularity and price. Danny also explains how demand is driven by seasons.
[30:29] – Oxtail is an example of a cut that used to be relativity inexpensive but has grown in popularity and price. As are bones.
[33:22] – The first question to ask when bacon is concerned is, does the butcher smoke it himself? Danny gives us some tips of choosing the best bacon and how to save money.
[36:28] – Organ meat can be ground into custom grinds of meat. Beef heart and spleen are commonly used for this.
Danny's Tip: Find a butcher that is willing to do custom grinds for you.
[37:38] – A lot of people ask questions about best value on lamb, as going into spring it generally increases in price. Danny recommends going for shoulder or neck vs leg or rack which are more popular.
[40:02] – Mutton is very rarely requested and is better value. However, it is tougher and stronger in flavour so should be used in stews and grind.
[40:51] – Slow roast recommendations: whole hind quarter beef shank.
[41:33] – Grilling tips: Let the meat come to room temp, season half hour before cooking and let it rest when it comes off the grill.
[42:53] – Sausage tips: ask a lot of questions. If you find a butcher that makes them inside find out what cuts they are using, ask about seasoning and the casing used.
Tip: When cooking sausage parboil it before cooking it on the grill.
[45:11] – We discuss getting eggs from the butcher and the best tip for saving money with chicken is to learn to cut it up yourself.
[49:48] – The Butcher's Guild mission is to educate people about finding best quality meat and let them know this is a thriving trade.
[51:29] – The World Butcher Challenge started as a bet between Australia and New Zealand evolving since inception to involve many other countries. Danny talks about being on The American Butcher Team.
[55:05] – For anyone wanting to find out more or has questions, email Danny at [email protected] and he will respond as quickly as possible. Alternatively you can call +1 916-443-6881