Reviewed by the BioHackers Lab Team | Last updated: June 17, 2023
Coffee can cause bloating for some individuals due to its natural laxative effect and acidity, which stimulate the digestive system and irritate the digestive tract, respectively. However, effects vary among individuals. There could be multiple reasons for this, such as gas production, coffee consumption habits, and stress levels. To minimize bloating, drink coffee in moderation, avoid it on an empty stomach, and stay hydrated.
Here are a few key takeaways:
In my experience, certain types of coffee can irritate my gut; for me these tend to be instant coffee or certain dark roast espresso coffees.
Some people can experience just some mild abdominal pain and distension, whilst others will suffer excessive gas and diarrhea if they have coffee. Then the jitters, anxiety, headache and indigestion could all follow.
Coffee is a beloved drink for many worldwide due to its rich flavor and invigorating qualities. But, like any food or drink, it can come with some unintended side effects – one of which may be bloating.
Disclaimer: Every effort has been made to provide useful and accurate information. Regardless, this information should not be relied upon in place of consultation with healthcare professionals and should not be confused with advice from trained professionals, such as dieticians and doctors.
---
Can Coffee Cause Bloating?
Yes, coffee can cause bloating in some individuals. There are several reasons why coffee might lead to bloating.
Here are the main culprits behind the dreaded bloat:
---
The Ways That Coffee Causes Bloating
Below are the reasons why that coffee can cause the bloating feeling in some people.
1. Dehydration
Caffeine, the stimulant that makes coffee our morning hero, can potentially cause bloating. This is because caffeine is a natural diuretic, which means it can lead to dehydration.
When the body is dehydrated, it often compensates by retaining water, which can result in bloating.
Caffeine stimulates the release of gastrin. This is a hormone that accelerates activity in the colon. It can lead to an inflated feeling in the stomach and intestines, essentially bloating. Gas production, a common outcome of increased gastrin, could also contribute to the bloated feeling.
Next time you're reaching for your fourth cup of joe, remember to balance it out with a good ol' glass of H2O. Coffee might be life, but water is a lifeline!
When I'm savoring a delicious cup of coffee, I try to remind myself that moderation is key.
2. Additives
Those extra flavorings and additives we often mix in to sweeten and flavor coffee could cause that bloated feeling.
Artificial sweeteners and dairy products are known to cause bloating in some people. So, if your coffee is more milk, cream and sugar than actual coffee, your stomach might be protesting against the extras, not the espresso.
Consider switching to a black coffee (if you can stomach it), try Bulletproof Coffee, try healthy alternatives to sugar in coffee or even using plant-based milk options to see if that helps give your stomach a break.
If you're like me, a tall milky latte full of syrups is a recipe for disaster for risk of bloating and an upset stomach.
3. Overconsumption
When it comes to coffee, it's easy to overindulge. Too much coffee can lead to an overproduction of stomach acid, which can irritate your digestive system and cause bloating. Monitoring your coffee consumption is essential to avoid such issues.
So, while it's tempting to turn your coffee pot into a bottomless pit, remember that moderation is key. Be kind, rewind, and give your stomach a break every now and then.
I usually find that sticking to one or two cups a day is the sweet spot for enjoying my coffee without the discomfort of bloating.
4. Acidity Levels
Coffee, despite its rich and smooth taste, is acidic. This acidity can lead to inflammation and irritation in your stomach lining, causing – you guessed it – bloating.
It's like that plot twist in your favorite thriller where the character you least suspect ends up causing all the trouble.
If you feel bloated after your morning cup, remember, it might be the acid, the unsuspecting villain in your coffee cup. Maybe try a low-acid coffee variant next time; I recommend trying Spirit Animal coffee or Purity Coffee options here.
If you're like me, you've learned that even a beloved morning ritual can sometimes use a tweak for the sake of your well-being.
5. Brewing Method
One reason cold brew coffee may be easier to digest is that it has a lower acidity level compared to hot brewed coffee. The lower acidity could potentially reduce the likelihood of experiencing acid reflux or heartburn after drinking a cold brew coffee.
A study comparing the sensory qualities of full immersion coffee brewed at different temperatures found that cold brewed coffee had higher floral flavor and lower bitter taste, sour taste, and rubber flavor compared to hot brewed coffee. This difference in flavor profile may also contribute to the perception that cold brew coffee is easier to digest and potentially causes less stress on your digestive system.
Additionally, the unique extraction conditions of cold brewing may lead to a different balance of bioactive compounds, such as caffeine and chlorogenic acids, which could contribute to the perceived differences in digestibility. These compounds may influence factors like bowel movements and spasms, in turn affecting how coffee is tolerated by the body.
6. Roasting Process
The coffee roasting process affects the caffeine content in coffee beans, with higher roasting temperatures resulting in increased caffeine content. Caffeine is known to contribute to the bitterness of coffee and has certain pharmacological effects, including stimulation of bowel movements, which may trigger bloating in some individuals. However, it is important to note that the relationship between roasting profile and bloating is not yet fully understood, and further studies are needed to establish a clear connection.
Additionally, the roasting profile can impact the content of phenolic compounds in coffee, which are known for their antioxidant properties. Light roast levels have been found to have a positive effect on phenolic and volatile compound content in specialty coffee. These compounds may contribute to the overall effects of coffee on the gastrointestinal tract and the brain-gut axis, as well as potentially play a role in triggering or reducing bloating.
---
How Do You Get Rid Of Coffee Bloat?
If you find that coffee is causing bloating, there are a few ways you can mitigate this.
Here are a few actionable tips for you to consider:
Drink more water to balance out the caffeine's dehydrating effect
Limit coffee intake to help prevent bloating from overconsumption
Sip coffee slowly to give your body more time to digest
Avoid dairy and sugar as they can increase bloating
Eat before drinking coffee to avoid bloating from an empty stomach
Stay active as regular exercise can reduce bloating
Try decaf coffee or a herbal tea as these lower caffeine options can reduce bloating
Try pesticide free, mold test coffee beans if that makes a difference
Readers Favorite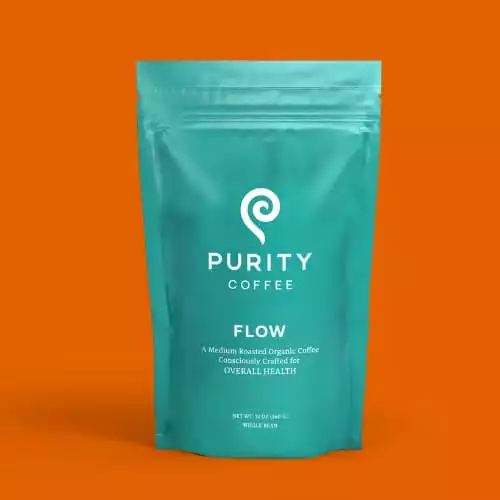 Purity Coffee Beans
Purity Coffee has a great selection of mycotoxin tested organic coffee beans that are all speciality coffee rated for a coffee shop level taste experience.
Discount Code: biohackerslab
SAVE 20% Off With Code
We earn a commission if you make a purchase, at no additional cost to you.
Sure, coffee is a cherished part of many people's routines, offering a much-needed energy boost. However, overconsumption or drinking it in the wrong way can sometimes lead to uncomfortable bloating and potential triggers of digestive issues.
If you can follow just a few of the above steps, this should help reduce the bloating and enable you to enjoy your cup of joe without any unwanted side effects.
As everybody is different, it's worth experimenting with these tips to find what works best for you. If bloating persists despite your efforts, you should consult with a healthcare professional.
---
Should You Drink Coffee When Bloated?
If you are already feeling bloated, it might be best to avoid coffee until your symptoms subside. Since coffee can potentially cause bloating, it might exacerbate your discomfort.
Instead, consider drinking plenty of water or herbal tea, which can aid digestion and possibly help alleviate the bloating you're experiencing.
When I've experienced bloating, I found that taking a break from coffee and hydrating with water or soothing herbal teas like peppermint or ginger has often helped my symptoms subside.
It's also a good opportunity to evaluate and possibly adjust your coffee-drinking habits to prevent future bloating.
---
Can Coffee Cause Constipation And Bloating?
While some people find that coffee stimulates their bowels, others might experience the opposite effect. This is because coffee can sometimes cause the muscles in the digestive system to contract, leading to constipation and spasms that might affect bowel movements.
If you're prone to constipation, this can cause bloating and discomfort. It may be worth reducing your intake or switching to a decaffeinated coffee product.
If you're like me, you enjoy the (often much-needed) energy boost that coffee provides. But if it's causing digestive issues such as constipation or bloating, it's crucial to listen to your body and adjust your consumption accordingly.
---
Can Coffee On An Empty Stomach Cause Bloating?
Drinking coffee on an empty stomach can increase the chances of experiencing bloating.
When consumed without food, coffee can stimulate the production of stomach acid, which can lead to irritation and inflammation in the stomach lining.
This can cause bloating and discomfort. Therefore, it's generally recommended to consume coffee after eating, not before.
---
Does Coffee Cause Inflammation In The Stomach?
Coffee can potentially cause inflammation in the stomach, especially when consumed in large quantities or on an empty stomach.
The acidity of coffee can irritate the stomach lining, leading to inflammation and discomfort. This, in turn, can result in bloating.
---
Can Coffee Actually Cause Bloating? (My Final Thoughts)
Coffee can cause bloating, and the reason behind the bloating may not be immediately obvious due to various triggers.
However, stress can also affect digestion, so it's essential to manage stress levels alongside coffee consumption.
If you have persistent bloating or other digestive issues this might be irritable bowl syndrome (IBS); be sure to consult with a healthcare professional for a diagnosis. They can provide guidance and possibly identify any underlying conditions that might be contributing to your symptoms.
You May Also Like: