Reviewed by the BioHackers Lab Team | Last updated: March 1, 2023
If you want to taste the real and original Bulletproof coffee you will have to buy the official ingredients, or find a coffee shop near you. We will try to help you with either choice.
We started our journey into the world of biohacking when we first heard of putting butter in your coffee – that coffee was Bulletproof Coffee.
We have been lucky enough to enjoy a cup or mug of Bulletproof Coffee making it at home with the official Bulletproof coffee beans and MCT Oil, but also ordering a cup of Bulletproof Coffee from one of their official branded stores.
Where to Buy Bulletproof Coffee Online?
You can buy the official Bulletproof Coffee ingredients, Bulletproof Coffee beans, Bulletproof MCT oil & Bulletproof ghee, from either:
We couldn't see any Bulletproof products for sale on the Costco or Trader Joe's websites.
The Original Coffee Beans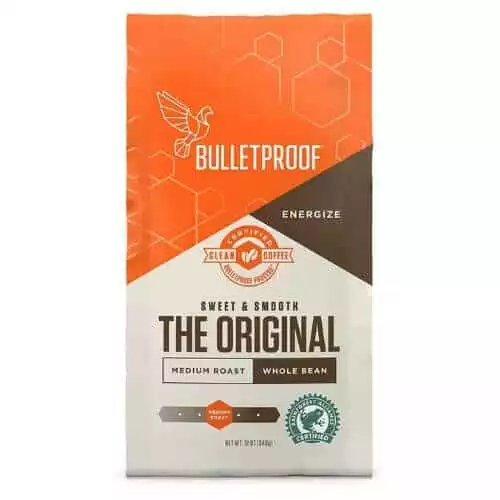 Bulletproof Coffee Beans
Experience the real Bulletproof Coffee ingredients by buying them at the official Bulletproof online store.
Discount Code: BIOHACKERSLAB10
Get Them Here
We earn a commission if you make a purchase, at no additional cost to you.
Where to Find Locations That Sell Bulletproof Coffee Products?
Unfortunately, If you want to go get a takeaway Bulletproof Coffee or sit down and enjoy one it looks like all the physical Bulletproof Cafes are no longer in operation.
Sorry, but maybe a local coffee shop near you will make it for you. If you do have one please let us know.
For a list of all other physical shops and grocery stores that stock Bulletproof Coffee products you can use the official store map locator here.
All you need to do is
Go to the locator map
Enter in your area e.g. Santa Monica
Click enter
The map will show all the locations that you can get Bulletproof products from
Using the official map locator function on the the Bulletproof website is the easiest way to enter your physical address to see the nearest retail store locations closet to you.
A list of popular grocery store brands that do stock and sell various Bulletproof coffee products include:
Whole Foods
Vitamin Shoppe
Target Express
Walmart
Safeway
Albertsons
Hopefully your local grocery store brand has Bulletproof coffee beans and MCT oil in stock, so all you need to do is walk in and pay at the counter.
Final Thoughts
The easiest place and, potentially, the cheapest place to buy Bulletproof products would be to buy them online vs from a physical store location.
This is because you might not only get free shipping to your door, but you can also use a Bulletproof promo code at checkout, get a discounted deal in a Bulletproof sale event like Black Friday or Cyber Monday.
Some Bulletproof items can only be bought online like the Bulletproof Vibe whole body vibration plate, coffee canisters, water bottles etc…
These bigger items like the gear and tech might only be for sale through the website.
However, it is great to see how the brand is being stocked on the shelves of more and more retail stores to make it easier for people like you and me to conveniently get hold of our favorite Bulletproof product if we happen to be shopping there or passing by.
Related Articles