Reviewed by the BioHackers Lab Team | Last updated: January 24, 2023
The best whole body vibration machines are:
Using a good whole body vibration exercise machine can help some people to do workouts that are more time efficient whilst your are stimulating your muscles and bones.
I was interested to find out what are some of the best whole body vibration (WBV) workout machines to use for me to review.
So, I went out researching online for what are the top rated & most recommended brands who make vibration exercise machines that are available to buy online.
The Best Whole Body Vibration Therapy Machines in 2023
Here is the list of recommended vibration exercise plate machines we reviewed for you to compare.
---
1. Personal Power Plate
Overview
Plate Size: 27.5in x 18.7in x 6.2in
Type of Vibration: PrecisionWave™ Technology
Frequency Range: 35 Hz
Machine Weight: 37.2 pounds
Max User Weight: 264 lbs

Power Plate is a major brand in the space of making whole body vibrations machines. They now have a WBV machine that is small enough to easily use at home that they call Personal Power Plate. With the preset 35Hz vibration and getting to choose between 30-60 second times this will make having a quick workout on your machine really easy.
---
2. Bulletproof Vibe Vibration Platform
Overview
Plate Size: 24″ x 24″ x 9″ inches
Type of Vibration: Linear
Frequency Range: Fixed 30 Hz
Machine Weight: 61 pounds
Max User Weight: 300 lbs
Comes with a one-year warranty on the motor and a lifetime warranty on all other parts
Is compact in size and can be stored easily
Is mounted on rubber pads so that vibrations are transferred to the user, not the floor
Has a fixed frequency of 30 Hz
Does not offer any alternate settings

The Bulletproof Vibe is a unique option from famous biohacker, Dave Asprey of Bulletproof coffee fame.
The Vibe runs at a fixed 30 Hz, with no option to change the frequency of vibration. According to Bulletproof, this results in a higher quality motor that is less likely to break. They recommend spending no more than fifteen minutes at a time on the machine, but the user can set the duration of the workout. Bulletproof markets their plate as a fifteen-minute replacement for a full gym workout. (ref)
---
3. Vibration Therapeutic VT003F
Overview
Plate Size: 22″ x 19″ x 7.1″ inches
Type of Vibration: Linear
Frequency Range: Adjustable 15-40 Hz
Machine Weight: 25.8 pounds
Max User Weight: 264 lbs
Strong 80W machine
Adjustable usage timer and frequency range
Portable machine
Manual linear vibration frequency setting available
3 pre-programmed settings available
Manufacturer warns that 2% of people can experience dizziness
Weight limit is 264 lb so people who are heavier are not recommended this machine

If you want a sturdy machine that is designed for lots of everyday usage at home, or an office, then this is a good option to consider. The VT003F model from Vibration Therapeutic machine is compact in size, requires no assembly and comes with a remote control and stable training bands. This machine is designed to allow a user to manually custom the vibration frequency 1Hz at a time to their desired vibration point. (ref)
---
4. GForce Professional Dual Motor Whole Body Vibration Machine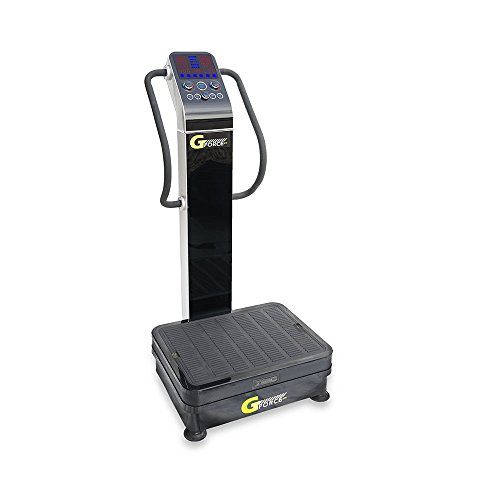 Overview
Plate Size: 27″ by 20″ inches
Type of Vibration: Linear & Pivotal
Frequency Range: Adjustable 15 – 45 Hz
Machine Weight: 146 pounds
Max User Weight: 400 lbs
Uses dual motors to offer a wide range of frequencies and vibration settings
Has a digital control panel for ease of use
Includes 9 operating modes and 60 speed settings
Handles highest user weight at 400 pounds
Weighs about 150 pounds, making it difficult to move
Lots of functions so could be overkill for most people's needs

The GForce Dual Motor Whole Body Vibration Machine offers vibration in two motions: oscillation and tri-planar.
During oscillation mode, the plate pivots from side to side, like a see-saw. This mode is most beneficial for weight loss and improvement of fast twitch muscles. During tri-planar mode, the plate moves in a spiral motion, which helps to increase bone density and muscle strength. It comes with arm bands and an exercise DVD, along with an exercise chart and setup instructions. Due to its size & durability, this machine is more a professional option. It would look well suited for medical offices and private home gyms.
---
5. NexHT Fitness Vibration Platform
Overview
Plate Size: 31.5″ x 18.1″ x 5.3″ inches
Type of Vibration: Linear
Frequency Range: 0 – 30 Hz
Machine Weight: 39.6 pounds
Max User Weight: 330lbs
Weighs only 30 pounds, is compact in size and can be easily carried and stored
Includes a remote control along with a digital display
Compared to other vibration machines on the market, it is very affordable
Comes in multiple colors
Doesn't come with any exercise examples
Based on reviews, instructions are difficult to understand

In addition to Whole Body Vibration (WBV), the NexHT Fitness Vibration Platform model 89013A can also be used as a platform for other exercises like push-ups or stepping.
It's multi-use capacity and relatively low price may make it more appealing than other brands. It recommends a duration of ten minutes and comes with a remote control and resistance bands. The machine also sets itself apart by offering a variety of colors: orange, metallic grey, and white. The brand prides itself on making its machines out of a high purity rubber, rather than recycled plastic.
---
6. Confidence Fitness Slim Full Body Vibration Platform
Overview
Plate Size: 29″ by 27.5″
Type of Vibration: Pivotal
Frequency Range: 50 – 60 Hz
Machine Weight: 70 pounds
Max User Weight: 300 lbs
Has raised bars to assist with balance
Compared to other vibration machines on the market, it is very affordable
Has a digital control panel for ease of use
Includes three programs and 50 speed settings
Includes wheels for easy mobility
Large size makes it difficult to store
Some reviews describe the vibration strength as weak

The Confidence Vibration Platform recommends using the machine for a variety of weight-bearing exercises.
The user can sit, stand, or lay on the platform to perform various exercises throughout the vibration. It recommends a workout duration of only ten minutes. It includes yoga straps and exercise examples, and advertises that spending ten minutes on the platform is equivalent to working out for one hour. This machine seems to be best-suited for use in a gym rather than a private home.
---
Frequently Asked Questions
I know you were looking for what are the best options, but here is some more detail as to why vibration platforms can help keep us healthy.
Did you know that vibration exercise was first tested on space astronauts?
Lack of exercise happens to a lot of people. As we leave school and become busy adults life never seems to give us enough time to exercise everyday.
Being able to get some form of daily resistance exercise improves our health in many ways like; reducing the risk of lean muscle loss, strengthen bones, help manage weight, better mood, stronger immunity plus loads of other health benefits.
But, one thing to remember is that we all tend to take being able to move easily for granted. Good exercise routines are important to help us get those much needed muscle stimulating periods in the day.
What Are Vibrating Platforms and What Do They Do?
Vibrating platforms are exercise machines consisting of a vibrating plate and sometimes bars or handles on which to hold. The user stands, sits, or lies on the vibrating plate while vibrations are transferred from the machine to the body. Vibration machines are designed to provide therapy for some medical conditions, as well as for extra fitness training. (ref)
Whole body vibration history starts decades ago with space travel and how to preserve bone and muscle health. (ref)
Some even feel you can go back to the 1800's with Dr Zander exercise machine inventions. (ref)
Types of Full Body Vibration Machines
Vibration machines can be used for strength training, fitness, medical therapy and wellness therapy. Because there are so many uses for WBV, there are many different types of vibration machines available. These include:
Lineal
Pivotal
High energy
Medium energy
Low energy
High speed
Low speed
High amplitude
Low amplitude
These characteristics can be combined in a machine in different ways to promote different physiological benefits. (ref)
When to Use a Vibration Exercise Platform?
Vibration platforms have a wide range of uses, including:
Weight loss (ref)
Lymphatic drainage
Reducing pain
Reducing stress
Decreasing cellulite
Vibration platforms can also be used as therapy for a number of medical conditions; however, if you are looking into WBV and have a joint replacement or other medical conditions, it is recommended that you talk to your doctor first. (ref)
WBV has been shown to be particularly beneficial as an exercise activity for the elderly, as it stimulates the muscle fibers without requiring strenuous exertion. (ref)
Full Body Vibration Exercise Benefits
Even if you choose to use WBV for a particular medical condition or fitness purpose, vibration exercise comes with a variety of other potential benefits, including:
Higher bone density
Increased mobility
Increased flexibility
Better neuromuscular control
Improved balance
Increased muscle strength
Higher metabolism
Better circulation
Faster recovery
Increased hormone secretion
Slowed aging
It may be worth noting that people who are in good physical health may not reap the same benefits as those with physical impairments. WBV has been shown to be most effective as a therapy to improve mobility in patients who have impaired physical abilities, such as those with stroke, osteoarthritis, diabetes, and obstructive pulmonary disease. For physically healthy people, taking a 30-minute walk or participating in outside activities may be more beneficial than vibration therapy (and more fun). (ref)
However, for those looking into WBV as a supplement to their training routine, it can be useful for heightening the intensity of common exercises such as squats, push-ups and planks. (ref)
Is It Safe to Use a Vibrating Exercise Machine?
While the use of a vibrating machine can be beneficial for a number of conditions, WBV has been shown to cause adverse events when certain diseases or injuries are present. Side-effects can include headaches, hearing loss and blurred vision. To avoid these side-effects, consult with your doctor before engaging in vibration therapy or training, and be sure not to overuse your WBV machine. (ref)
How to Use a WBV Exercise Machine
Most machines will come with instructions and basic exercise examples.
However, we have included some examples here to get you started with vibration therapy. (ref)
Standing Therapy (Low to Medium Speed)
Keeping your feet hip-width apart, stand perfectly straight in the center of the platform
Hold onto the handle bar with legs straight or slightly bent
Basic Squat (Medium to High Speed)
Keeping your feet hip-width apart, stand perfectly straight
Place your heels at the back edge of the plate, while holding onto the handle bars
Drop into a deep squat and hold the position until you start to lose form
Push-Up (Low Speed)
Kneeling in front of the machine, place your hands on the outside edges of the platform
Tilt your head forward to look directly at your knees
With your back straight, slowly lower your body halfway towards the plate, keeping your elbows out to the sides
For higher intensity, lift your knees up so you are balancing on your toes
Triceps Dip (Low Speed)
While sitting on the edge of the platform, place your hands next to your hips with your fingers pointing straight out
Slide forward and drop down over the edge by bending your elbows out to the sides
Seated Abdominal Therapy (Low to Medium Speed)
Sit upright in the center of the platform with your feet flat on the ground and your knees bent
Cross your arms over your chest and relax
To add intensity, lean back slowly until tension is felt in the abdominal area
Relaxing Stretch (Low to Medium Speed)
Stand on the platform with feet hip-width apart
Keeping your knees straight or slightly bent, bend forward gently at the waist
Anti-Cellulite Massage (High Speed)
Sit on the platform with your legs outstretched in front of you and your knees even with the front edge of the machine
Lean forward
Even though a using exercise plates can help be a time efficient home exercise program, it's important to remember that there are also other ways you can improve your muscle tone and keep your bones strong.
Related Products to Buy