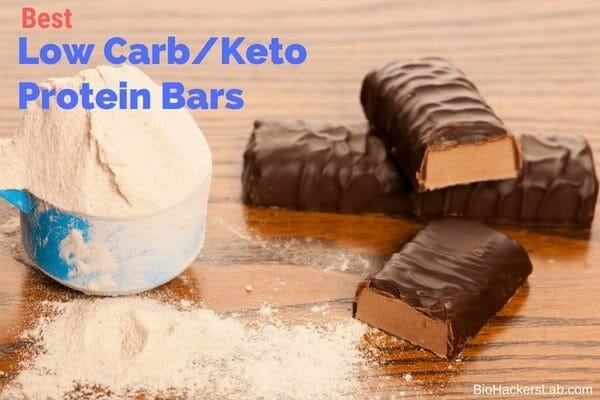 Reviewed by the BioHackers Lab Team | Last updated: September 28, 2020
I was interested to find out what are some of the best keto-friendly protein bars to use for me to review.
The best keto protein bars are:
Using a good keto-friendly protein bar can help manage you manage your macros when you are following a ketogenic diet.
So I went out looking for what are some of the top rated & most recommended brands who make keto protein bars that are available to buy online.
The Best Keto Protein Bars in 2023
Here is the list of recommended keto-friendly protein bars for you to compare.
---
1. CHOMPS Grass Fed Original Beef Jerky Sticks
Overview
Protein: 9g
Total Carbohydrates: 0g
Sugar: 0g
Dietary Fiber: 0g
Net Carbs: 0g
Calories: 90 kcal
Sizes: 1 stick at 32g per serving with 24 sticks per box
CHOMPS original beef sticks are the lowest net carb and lowest calories keto protein bar option. You will be eating 100% grass fed beef with no added things like MSG or pork fillers. However, there is garlic powder in there. These keto meat snacks are super convenient for travelling or keeping in a bag as an emergency snack.

---
2. Epic Venison All Natural Meat Bar
Overview
Protein: 12g
Total Carbohydrate: 2g
Sugar: 2g
Dietary Fiber: 0g
Net Carbs: 2g
Calories: 120 kcal
Size included:12 bars, 43g (1.5 ounces) each
This all-natural meat bar made by Epic contain grass-fed venison and range free deer. Blended with sea salt and pepper for a delicious flavor that satisfies. The epic bar range creatively creates different meat into a flavor-filled meat protein bars that are sure to give you the boost of energy you are looking for. The protein bar is an excellent source of omega 3s, vitamin B12, vitamin E, and many helpful antioxidants and is gluten-free.

---
3. Perfect Keto Protein Bar
Overview
Protein: 10g
Total Carbohydrates: 11g
Sugar: 1g
Dietary Fiber: 9g
Net Carbs: 2g
Calories: 240 kcal
Sizes: 1 bar at 45g per serving with 12 bars per box
The Perfect Keto protein bars have the best flavor range available including our favorite one being, cinnamon roll. We like the Perfect Keto range of keto-friendly snacks as the ingredients are easy to read and not full of unwanted things.
---
4. Kiss My Keto Bars
Overview
Protein: 10g
Total Carbohydrates: 17g
Sugar: 1g
Dietary Fiber: 11g
Net Carbs: 4g
Calories: 240 kcal
Sizes: 1 bar at 50g per serving with 12 bars per box
The Kiss My Keto keto protein bars will satisfy your craving for favorite flavors like peanut butter, cookie dough and coconut. The protein used in the bars is milk protein isolate. There are added MCT oils in these bars to help raise ketone levels. Stevia and monk fruit are the added sugar alcohols.
---
5. Bulletproof Collagen Protein Bars
Overview
Protein: 12g
Total Carbohydrates: 14g
Sugar: 2g
Dietary Fiber: 5g
Net Carbs: 9g
Calories: 220 kcal
Size included: 12 bars, 45g (1.58 ounces) each
The Bulletproof protein bars are made with collagen protein from grass-fed cows. These delicately processed ingredients have all the amino acids you need, with a burst of nutrients preserved from the low-cooked boiling process. These collagen protein bars come in three flavor options — lemon cookie, vanilla shortbread, or mint chocolate chip so you can easily find the one you like best for on-the-go fueling. Bulletproof collagen protein bars are keto-friendly and contain quality fats that keep you feeling fuller and focused longer. Uniquely, this protein bar contains brain octane oil that provides an excellent dose of quality fats for increased energy and fat burning.

---
6. Onnit Protein Bars
Overview
Protein: 16g
Total Carbohydrate: 26g
Sugar: 4g
Dietary Fiber: 11g
Net Carbs: 15g
Calories: 240 kcal
Size included: 12 bars, 2.1 ounces each
The protein bars by Onnit one of the tastiest protein bars you will ever eat. These bars are packed with high protein and fiber, low sugar, and an ample amount of beneficial fats. These protein bars are designed to help individuals with weight management or to build strong muscles. The high protein and low sugar combination make these bars an excellent option for any time of the day. The only issue with these bars is they have a high amount of total and net carbs compared to the other products reviewed.
The Onnit Protein Bars are available to
buy directly on the Onnit website
PLUS if you use the Onnit promo code
BIOHACKERSLAB
at checkout you will get a discounted price off the RRP price.

---
7. No Cow Protein Bars
Overview
Protein: 22g
Total Carbohydrates: 25g
Sugar: 1g
Dietary Fiber: 18g
Net Carbs: 5g
Calories: 190 kcal
Size included: 12 bars, 2.12 ounces each
The No Cow protein bars are an excellent option for keto vegan eaters. These flavor-filled bars are vegan-freindly and contain no dairy products. Additionally, there is no added soy or sugar and the bars contain no GMO ingredients. Consumers are able to choose a mixed flavor bundle or select to purchase 12 bars in their favorite No Cow flavor. Each bar contains less than 1g of sugar and, uniquely, all of the antioxidants and protein are plant-based. These protein bars are loaded with vitamins and minerals that help support optimal health and energy levels.

---
8. IQBAR Keto Protein Bars
No products found.
Overview
Protein: 12g
Total Carbohydrates: 15g
Sugar: 1g
Dietary Fiber: 6g
Net Carbs: 9g
Calories: 150 kcal
Size included:12 bars, 45g (1.58 ounces) each
The IQBAR keto protein bars are an excellent option for people looking for a plant based protein coming from pea protein. They are an interesting option as they are the only product reviewed that contains lion mane extract which is meant to be good for brain health. These delicious bars come in lots of varied flavors with different fruit and chocolate flavor options. These bars contain no gelatin or soy, no artificial fillers, and no sugar alcohols. They do advertise the product as 3g net carb if you subtract the allulose of 6g per bar.
No products found.
---
9. Orgain Organic Protein Bar
Overview
Protein: 10g
Total Carbohydrates: 17g
Sugar: 3g
Dietary Fiber: 3g
Net Carbs: 15g
Calories: 160 kcal
Size included: 12 bars, 1.4 ounces each
The protein bars from Orgain are non-GMO and made with all natural ingredients. These products are soy and gluten free and do not have any artificial flavors, colors, or preservatives. Most ingredients in the bar are certified organic and 100-percent vegan. Orgain protein bars come in four fantastic flavors that provide clean and delicious nourishment whenever you need it. Compared to other bars, these offer clean protein that is safe and effective for weight management. Whether you are looking for a quick snack to hold you over until your next meal, desire on-the-go energy, or you are looking for a post-workout protein bar that is effective, Orgain is definitely the right choice.

---
10. Quest Nutrition Protein Bar
Overview
Protein: 20g
Total Carbohydrates: 22g
Sugar: 1g
Dietary Fiber: 13g
Net Carbs: 5g
Calories: 210 kcal
Size included: 12 bars, 2.2 ounces each
The Quest Nutrition protein bars will be a brand that is easy to buy online and in grocery stores. The brand has the most amount of flavor options of any other at twenty-two different flavors to choose from, so you are sure to find one that satisfies. Each bar blends fantastic ingredients while offering 21g of whey protein isolate, 13g of fiber, and less than 1g of added sugar in every bar. Each bar contains 4g of erythritol which is how net carbs are calculated (22g – 13g – 4g = 5g).

---
Frequently Asked Questions
I know you were looking for what are the best options, but here is some more detail as to why we might need protein bar products to help us eat enough protein when on the go.
When to Eat Protein Bars?
The time you eat your protein bar depends on what you want to use it for. Some individuals eat protein bars in the morning as a meal replacement for breakfast. This allows people to eat a healthy breakfast on-the-go so they do not skip the meal entirely.
Eating protein bars as a snack between meals is another great option. Rather than snack on unhealthy items, like cookies, cakes, and chips, have a protein bar. These bars will help curb your appetite until your next meal.
Protein bars are also an excellent choice for a meal replacement. Instead of dining on lower-calorie alternatives, like shakes, protein bars are a highly convenient alternative. These bars are high in protein and healthy fats and they provide an exceptional amount of nutrients to help with weight loss.
Before or after exercise are two exceptional times to consume protein bars as well. When consumed 1-2 hours before exercise, protein bars help boost energy so you can work longer and harder. When taken after, protein bars help repair muscles worked during exercise so you can recover faster.
How Many Protein Bars Can I Eat a Day?
Like any type of food, protein bars must be eaten in moderation to provide the most benefit for consumers. When it comes to determining the proper amount to eat in one day, it is not as easy as you would hope. (ref)
The type of ingredients, calories, and serving sizes all determine the amount you should consume each day. While most protein bars are low calories, low carbs, and high protein, this is not always the case. Some protein bars are high in calories and have high-fat content, which can wreak havoc on your diet. You will want to make sure the calories, sugar, and protein all fall within a recommended amount per day. Typically, bodybuilders and dieters find one to two bars a day provide the optimal results for them; however, you will be able to review the ingredients to determine what works best for you. (ref)
Are Protein Bars Good for You?
When consumed in moderation, protein bars can be an exceptionally healthy dietary option. The bottom line is that if you are going to miss a meal, having a protein bar on hand to eat instead of going without will go a long way. (ref)
There are six key factors that you should consider above all when choosing protein bars to incorporate into your daily routine.
Total Calories: if you are trying to lose weight, protein bars can take up a large portion of your daily calorie schedule. This would generally be used for meal replacements instead of consumed as a snack. If you are trying to gain weight, however, this is an excellent choice to include between meals or post-workout.
Total Carbohydrates: When consumed after workouts, protein bars are great for replenishing worked muscles. For individuals trying to lose fat, consuming high carbohydrates is not ideal.
The Presence of Sugar Alcohols: some individuals have issues consuming these, so it is best to find bars that do not have them.
Ingredient Panel Listings: review calories and carbohydrates prior to purchasing to ensure the amount in each bar falls in line with your dietary goals.
Fat Content: unless you are using protein bars post-workout, you will most likely want to find a bar with lower fat content
Review Carb to Protein Ratio: the best scenario for fat-loss is a protein bar with 2:1 ratio of proteins to carbs.
(Source)
Related Products to Buy