Reviewed by the BioHackers Lab Team | Last updated: January 30, 2023
The best CoQ10 supplements are:
People look to use a good CoQ10 supplement to help support their mitochondria energy ability.
I was interested to find out what are some of the best CoQ10 supplements to use for me to review.
So, I went out looking for what are some the top rated & most recommended brands who make Coenzyme Q10 products that are available to buy online.
What Is the Best CoQ10?
The best for of CoQ10 to take ubiquinol. This is because ubiquinol has better absorption vs taking ubiquinone, which would still need to be converted into ubiquinol once ingested.
Below we share our list of best ubiquinol brands that we would consider taking. Plus, you will find brands that use ubiquinone listed as an alternative option.
The Best CoQ10 Supplements in 2023
Here is the list of recommended coenzyme Q10 supplements we reviewed for you to compare.
---
1. NOW Ubiquinol CoQ10 Softgels
Overview
Chemical Type: Ubiquinol
Format: Softgel
Dosage Per Serving: 100 mg
Number of Servings: 120
Uses Kaneka ubiquinol made in Japan
Added MCT Oil to help absorption
3 months supply per bottle
This product contains beeswax and bovine gelatin, so is not suitable for Vegans

NOW Foods is a US brand that has been in operation for 55 years and makes a variety of supplements including their Coenzyme Q10 supplement. I like that the brand provided who the source of their CoQ10 is from being Kaneka. Also, they use MCT oil as the fat to help with the absorption of the ubiquinol per softgel. They also mention on their website how they guarantee freshness and how they do this by using Oxygen absorbers, gas flushing, testing for leaching from the bottles and storing their products at the right temperatures.
---
2. Life Extension Super Ubiquinol COQ10 Softgels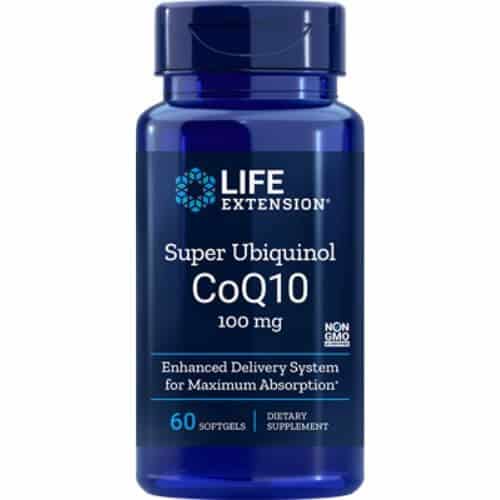 Overview
Chemical Type: Ubiquinol
Format: Softgel
Dosage Per Serving: 100 mg
Number of Servings: 60
This product absorbs up to 8 times better than the leading competitor.
This product is non-GMO and free of Soy, sugar, and artificial ingredients.
Capsules are quick and convenient to use.
Does contain sunflower oil and lecithin, which some people may not want
Contains Shilajit fulvic acid complex which again some might not be looking for

For years, Life Extension has provided quality products for customers across the globe. Their Super Ubiquinol CoQ10 supplement does not fall short of meeting customers expectations. The improved absorbency rate ensures users receive the full benefit of the product without having to supplement the capsule with other products. Customers routinely praise how easy it is to take these pills, how well they work for them, and how much their health has improved in as little as 30 days.
---
3. BulkSupplements Pure Coenzyme Q10 Powder
Overview
Chemical Type: Ubiquinone
Format: Powder
Dosage Per Serving: 200 mg
Number of Servings: 125
This powder is free from sugar, soy, yeast, dairy, gluten and other additives
Easy to mix in water
Easy to drink
This product can be messy for some people as it is a powder

Pure Coenzyme Q10 by BulkSupplements is one of the best quality CoQ10 powder you will find on the market. This product works to provide users relief from pain and inflammation, digestive discomfort, and healthier skin. This Pure Coenzyme Q10 comes in a factory sealed foil zip pouch that keeps it fresher longer. A very small amount of this product goes a long way in providing health benefits to the users. This product is manufactured in Nevada and is an exceptional quality. The powder form of CoQ10 is quite rare, yet extremely reliable and effective. This company put its best efforts into developing a product that is sure to please users.
---
4. Solgar CoQ10 Vegetarian Capsules
Overview
Chemical Type: Ubiquinone
Format: Vegetable capsule
Dosage Per Serving: 200 mg
Number of Servings: 60
An excellent choice for vegetarians, vegans, and those with certain food sensitivities.
Excellent source of nutrients needed to reduce age-related symptoms.
A quality source of coenzyme Q10.
Contains vegetable magnesium stearate and silica
The higher dose can cause discomfort for some users

Unlike other brands of CoQ10, these supplements come in a 200mg capsule. These vegetarian CoQ10 capsules by Solgar are quality you can trust. These capsules are specially formulated to the cleanest standards and free of gluten, wheat, and dairy. These supplements are extremely convenient and easy to take to improve heart health, energy, and skin. The 200mg capsules are an excellent source of reliable CoQ10, ensuring users are able to get a reliable amount of the nutrient in order to benefit their health. For years, Solgar has created reliable and trustworthy products and their vegetarian CoQ10 brilliantly demonstrate just how much time and effort is put into developing quality products.
---
5. Kirkland Signature CoQ10 Softgels
Overview
Chemical Type: Ubiquinone
Format: Softgel
Dosage Per Serving: 300 mg
Number of Servings: 100
An excellent option for individuals on a higher dose.
An extremely affordable option considering the amount of sofgels included and the 300mg amount.
Extremely effective for nerve and muscle conditions.
Very high dose not generally recommended for most users.
Pretty large sized pill, some users may not like this.

The CoQ10 softgels from Kirkland are an exceptional value for individuals with reduced CoQ10 levels due to statin use. This supplement packs the maximum potency possible, ensuring your numbers return to normal in no time. These supplements are an important antioxidant necessary to maintain a healthy cardiovascular system, and Kirkland does not upset customers relying on this product. The higher dose is much appreciated as it ensures patients do not have to take endless amounts of pills every day. Instead, they can get the recommended dosage in as little as one softgel per day with a meal. These pills are specially formulated to provide the most potent form of CoQ10 to users in order to maximize effects with the littlest effort.
---
6. Nature Made CoQ10 Softgels
Overview
Chemical Type: Ubiquinone
Format: Softgel
Dosage Per Serving: 200 mg
Number of Servings: 80
Excellent option for statin users and individuals who want to improve their heart health and energy.
Trusted and authentic product that works as it is designed to.
This product contains soy, so it may not be a suitable option for individuals with soy sensitivity
Contains soy

This affordable supplement from Nature Made is reliable and packed with CoQ10 that helps replenish your body's natural supply. There are no artificial flavors, colors, or preservatives added to this product; instead, they are naturally orange and come in an easy-to-swallow size and shape. Further, Nature Made recommends users take this pill with a full glass of water to ensure it goes down quick and easy. This brand is highly preferred, among other brands, by doctors and pharmacists across the country due to its exceptional reliability.
---
7. The Legacy CoQ10 Softgels
Overview
Chemical Type: Ubiquinone
Format: Softgel
Dosage Per Serving: 300 mg
Number of Servings: 60
Good option for men looking for a CoQ10 supplement to help enhance sperm health
Provides links to CoQ10 research studies
Legacy's CoQ10 supplements may be eligible for coverage if it's recommended by your healthcare provider
If your focus is not male fertility support then maybe this brand is not for you

The Legacy is a brand that focuses on helping people and couples understand male fertility status via sperm testing home kits. As part of their product range they sell male fertility supplements, including CoEnzyme Q10. We like that they share the CoQ10 research studies that show CoQ10 supplementation in men can help sperm count, motility, and morphology.
---
Coenzyme Q10 Buyers Guide
I know you were looking for what are the best options, but here is some more detail as to why we need Coenzyme Q10 products to help us detox and cleanse in different ways.
If this is not what you're looking for then why not also review these other anti-aging pills like: NR, NMN and resveratrol supplement options.
What is CoQ10?
Coenzyme Q10, commonly referred to as CoQ10, is a vitamin-like substance and antioxidant found naturally in the human body. CoQ10 is used to support the electron transport system in the mitochondria. It was first identified by scientists in 1957. The heart, pancreas, kidneys, and liver often house CoQ10, which is ingested from seafood and meats.
CoQ10 is an antioxidant that works to protect cells from the negative effects of aging. As we age, our body's production of CoQ10 often decreases, driving the need to supplement our natural production with the substance from other sources.
What Are the Benefits of Using CoQ10?
CoQ10 is an important vitamin for our body, often used to lessen the effects of aging, improve heart conditions, reduce inflammation, and provide several other health benefits for users.
Some of the main benefits of CoQ10 are:
Boosting energy levels: CoQ10 is considered an energy-boosting supplement as it creates more mental alertness in users, improves focus, and helps alleviate weakness, fatigue, and even seizures.
Prevents vision loss: Individuals suffering from age-related macular degeneration have seen a drastic improvement in their vision with this supplement.
Help with heart failure and problems: CoQ10 can reduce the chance of heart-related death in older individuals. CoQ10 can reduce the symptoms of heart failure and it can reduce abnormal heart rhythm.
Reduces nerve damage: Individuals with diabetic neuropathy experience reduced pains while taking CoQ10.
Alleviates fibromyalgia pain: Overall, patients see a 50% pain reduction when taking these supplements. Additionally, they report a 47% reduction in fatigue and 44% fewer pains at tender points on the body.
Slows aging: CoQ10 reduces degeneration on the organs, helps improve skin quality and boosts healthy tissue creation.
Improves Peyronie's disease: This supplement reduces painful erections in men.
Improves migraine headaches: Individuals taking CoQ10 report having a drastic decrease in the number and severity of migraine headaches they experience.
Recommended CoQ10 Dosages
When it comes to taking CoQ10, there are different doses that benefit individuals based on their age, current health, and other factors.
Some recommended dosages include:
Individuals between 40 and sixty years of age: The recommended dosage is 50 to 100 mg per day.
Individuals 60 years of age or older: The recommended dosage is 100 to 200 mg per day.
Individuals of any age currently taking statin medication: The recommended dosage is 100 to 200 mg a day
Individuals who have had a heart attack and/or have been diagnosed with congestive heart failure:The recommended dosage is 200 to 300 mg per day.
Further studies have investigated dosage requirements to treat more specific health conditions in individuals.
These conditions include:
Dosing for Adults
CoQ10 deficiencies: individuals with CoQ10 deficiencies should take between 150-2400 mg per day depending on the severity of their condition.
Limited energy production: Individuals should take 150-160 mg per day and, in some cases, doses may be increased by doctor's orders up to 3000 mg per day.
Vision loss: 10mg of CoQ10 should be taken in combination with 100mg of acetyl-L-carnitine and 530 mg of Omega-3.
Heart Problems: 100mg of coenzyme Q10 should be taken with 200 mcg of selenium yeast per day.
Diabetic nerve damage: Individuals should take up to 400mg a day for up to 12 weeks to improve conditions.
Fibromyalgia: These individuals should take 300 mg for up to six weeks. Combine 200 mg of CoQ10 with 200 mg of Ginkgo for twelve weeks for maximum results.
Headaches: Migraine sufferers should take 100 mg three times a day for three months.
Muscular Dystrophy: Take 100 mg a day for three months.
Pyronie's Disease: Men should take 300 mg per day for a maximum of 6 months.
Dosing for Children
CoQ10 Deficiencies: Take 60-250 mg per day divided between three doses.
Headaches: Patients between 3-18 years of age can take 1-3 mg for three months.
Muscular Dystrophy: Children between 8 and 15 years of age can take 100 mg daily for three months.
When is the Best Time to Take C0Q10?
There are three times when taking CoQ10 demonstrates the maximum benefit for users. (ref)
These times include:
Taking it in divided doses – Users see the highest benefit when they take the supplement with a meal in order to boost absorption.
Taking it with Fatty Food – Natural peanut butter or almond butter work exceptionally well at increasing the absorption of the supplement. Taking CoQ10 with food will ensure you receive all of the benefits it has to offer.
Take it with L-Carnitine – This water-soluble nutrient acts as a 'shuttle' for CoQ10 by delivering it to the target to maximize effects and absorption.
Frequently Asked Question
Should I Take Coq10 With Food
Yes, you should take a coq10 supplement alongside a meal.
Should CoQ10 be Taken in the Morning or Evening?
You should take your Coq10 supplement in the morning with your breakfast.
Does CoQ10 Give You Energy?
Yes, coq10 is meant to help support your mitochondria to provide more energy, but it won't make you feel like you are getting a caffeine energy boost when you take it.
Related Products to Buy